Overview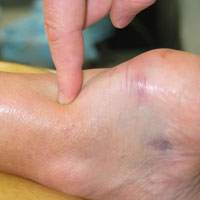 Achilles tendinitis is an overuse injury of the Achilles (uh-KIL-eez) tendon, the band of tissue that connects calf muscles at the back of the lower leg to your heel bone. Under too much stress, the tendon tightens and is forced to work too hard. This causes it to become inflamed (that?s Achilles tendinitis), and, over time, can produce a covering of scar tissue, which is less flexible than the tendon. If the inflamed Achilles continues to be stressed, it can tear or rupture. Achilles tendinitis most commonly occurs in runners who have suddenly increased the intensity or duration of their runs. It?s also common in middle-aged people who play sports, such as tennis or basketball, only on the weekends. Most cases of Achilles tendinitis can be treated with relatively simple, at-home care under your doctor?s supervision. Self-care strategies are usually necessary to prevent recurring episodes. More-serious cases of Achilles tendinitis can lead to tendon tears (ruptures) that may require surgical repair.
Causes
Sometimes Achilles Tendinitis is a result of sudden trauma, as you might encounter from playing sports, but you can also have Achilles tendon pain as a result of small, unnoticed, day-to-day irritations that inflame the tendon over time by a cumulative effect. In those with no history of trauma, Achilles Tendonitis is sometimes associated simply with long periods of standing. There are several factors that can cause the gradual development of Achilles Tendinitis. Improper shoe selection, particularly using high heels over many years, increases your odds of developing the condition. This is because high-heeled shoes cause your calf muscles to contract, leaving the tendon with a lot less slack in it. Inadequate stretching before engaging in athletic or other physically-demanding activities also predisposes you to develop the problem. This is especially true in "weekend athletes", individuals who tend to partake in excessive physical activities on an intermittent basis. Biomechanical abnormalities like excessive pronation (too much flattening of the arch) also tends to cause this condition. And it is much more common individuals with equinus. It is more common in the middle-aged, the out-of-shape, smokers, and in those who use steroids. Men get the condition more frequently than women. Those involved in jumping and high-impact sports are particularly vulnerable.
Symptoms
Dull or sharp pain anywhere along the back of the tendon, but usually close to the heel. limited ankle flexibility redness or heat over the painful area a nodule (a lumpy build-up of scar tissue) that can be felt on the tendon a cracking sound (scar tissue rubbing against tendon) with ankle movement.
Diagnosis
Studies such as x-rays and MRIs are not usually needed to make the diagnosis of tendonitis. While they are not needed for diagnosis of tendonitis, x-rays may be performed to ensure there is no other problem, such as a fracture, that could be causing the symptoms of pain and swelling. X-rays may show evidence of swelling around the tendon. MRIs are also good tests identify swelling, and will show evidence of tendonitis. However, these tests are not usually needed to confirm the diagnosis; MRIs are usually only performed if there is a suspicion of another problem that could be causing the symptoms. Once the diagnosis of tendonitis is confirmed, the next step is to proceed with appropriate treatment. Treatment depends on the specific type of tendonitis. Once the specific diagnosis is confirmed, the appropriate treatment of tendonitis can be initiated.
Nonsurgical Treatment
In order to treat the symptoms, antiflogistics or other anti-inflammatory therapy are often used. However these forms of therapy usually cannot prevent the injury to live on. Nevertheless patients will always have to be encouraged to execute less burdening activities, so that the burden on the tendon decreases as well. Complete immobilisation should however be avoided, since it can cause atrophy. Passive rehabilitation, Mobilisations can be used for dorsiflexion limitation of the talocrural joint and varus- or valgus limitation of the subtalar joint. Deep cross frictions (15 min). It?s effectiveness is not scientifically proven and gives limited results. Recently, the use of Extracorporal Shock Wave Therapy was proven. Besides that, the application of ice can cause a short decrease in pain and in swelling. Even though cryotherapy 2, 5 was not studied very thoroughly, recent research has shown that for injuries of soft tissue, applications of ice through a wet towel for ten minutes are the most effective measures. Active rehabilitation, An active exercise program mostly includes eccentric exercises. This can be explained by the fact that eccentric muscle training will lengthen the muscle fibres, which stimulates the collagen production. This form of therapy appears successful for mid-portion tendinosis, but has less effect with insertion tendinopathy. The sensation of pain sets the beginning burdening of the patient and the progression of the exercises.
Surgical Treatment
Histological and biological studies on tendon healing have made it possible to envisage surgical repair using a percutaneous approach, with the following objectives, a minimal, and not very aggressive, operation, which is quick and easy and within the capabilities of all surgeons, the shortest hospitalisation period possible, above all, early and effective re-education, providing a satisfactory result both in terms of solidity and the comfort of the patient. The percutaneous tenosynthesis TENOLIG combines stability, reliability, patient comfort and lower overall social and professional costs for this type of lesion.
Prevention
Warm up slowly by running at least one minute per mile slower than your usual pace for the first mile. Running backwards during your first mile is also a very effective way to warm up the Achilles, because doing so produces a gentle eccentric load that acts to strengthen the tendon. Runners should also avoid making sudden changes in mileage, and they should be particularly careful when wearing racing flats, as these shoes produce very rapid rates of pronation that increase the risk of Achilles tendon injury. If you have a tendency to be stiff, spend extra time stretching. If you?re overly flexible, perform eccentric load exercises preventively. Lastly, it is always important to control biomechanical alignment issues, either with proper running shoes and if necessary, stock or custom orthotics.